Study load
Approx. 12-15 hours per week* (see course structure)
Duration
0.5 years full-time (or 1 year part-time) (60 credit points)
Intakes
Jan, Apr, Jul, Oct
Support children's early years through innovative curriculum and teaching practices and discover a pathway towards further bachelor studies.
Kickstart your career in early childhood teaching online through Federation University.
Start your Early Childhood study through the foundational Undergraduate Certificate in Early Childhood Education. Develop the skills and theories that support literacy and numeracy learning in the early years, understand learning through play, and investigate science in the early years.
The Undergraduate Certificate in Early Childhood Studies is a pathway degree into a Bachelor degree qualification in Early Childhood-only Education. Successful completion of this certificate's four core units will qualify you for entry into the Bachelor of Education (Early Childhood).
Course structure

What you will learn

Entry requirements

Fees

Career outcomes

Support Services
Course structure
Course structure
Study load will vary depending on the amount of units you choose to study and the credit point cost of that unit. 12-15 contact hours are estimated for one 15 credit point unit.
Please note: you will only need to complete four core units for this Certificate. EDECE1002 Understanding Early Human Development is to be completed by students who enter with a Diploma of Early Childhood and Care.
Literacy and Numeracy
In this unit, you'll learn to develop resources and skills that allow you to develop an engaging literacy and numeracy curriculum that is in line with teaching and learning for pre-service teachers (PSTs).

You will develop a strategy for these topics and apply this in an educational context. You will explore the components of language (grammar, phonics, spelling, vocabulary), literacy (speaking, listening, writing, reading and viewing), understandings of genre; and ways in which these develop engaging learning experiences. You will also explore the numeracy topics of number sense, fractions, the four operations and measurement as part of your study.
Curriculum Through Play
This unit will introduce you to the historical and contemporary theories of play and their implications for the practice of pre-service teachers (PSTs). You will learn how play contributes to development, with an emphasis on play in natural spaces. You will also learn about cultural diversity and explore play as a socially inclusive practice.
Science and Environmental Education In Early Childhood
In this unit, you'll explore the concepts of science and environmental awareness appropriate for young children in an early childhood environment. You will learn to plan and implement science activities for young children in prior-to-school settings. You will also explore the importance and impact of culture, diversity and inclusion in the planning and programing of science and environmental education experiences. In addition, you will examine appropriate contemporary teaching strategies and curricula approaches, including play-based and inclusive strategies and alternative curricula approaches.
Learning and Teaching
Taught in the Undergraduate Certificate (Early Childhood Studies), this unit will introduce you to the process of teaching and learning, focusing on educators as reflective inquirers into professional practice. You'll learn to observe, plan, organise and monitor a range of teaching and learning approaches.
What you will learn
What you will learn
Curriculum development
Devise educational experiences that foreground creative play and fun, and that encourage engagement and learning.
Innovative teaching methods
Inspire young children's sense of curiosity through nature, open-ended materials and technology, grounded in play both indoors and outdoors. Learn exciting teaching methods for the 21st Century.
Prepare for entry into the Bachelor of Education (Early Childhood Education)
Prepare to work confidently and creatively with children in early childhood education settings which may include kindergarten; pre-schools; long day care centres, including those in special needs settings.
Entry requirements
Entry requirements
Current Year 12 students and recent secondary graduates (past two years)
Units 3 and 4: a study score of at least 20 in any English
Non-Year 12 with higher education study
Satisfactory completion of at least one year of tertiary study in a relevant field, or
Successful completion of the Federation University Foundation Access Studies (FAST) course (or equivalent).
Vocational Education and Training study
Successful completion of a TAFE qualification at Certificate III or IV in a cognate or appropriate area, such as Community Services, Education Support, Children's Services, or Nursing; and
At least one year of experience in a relevant area of education or support service, or
Successful completion of a recognised TAFE Diploma course in a cognate or an appropriate area.
Applicants with work and life experience
Applicants who have not completed secondary education, or undertaken any TAFE or university studies will not be eligible for entry into this course. Applicants in this category should consider a pathway course such as Foundation Access Studies (FAST) course.
Additional requirements
Applicants will be required to hold a valid Working with Children Card (WWCC).
Fees
Fees
$2,062 student contribution amount (Commonwealth Supported Place)
If you're offered a Commonwealth Supported Place, your fees are subsidised by the Australian Government.
Your fees (student contribution) are set on an annual basis by the government and are determined by the discipline area and band of your individual enrolled units, not the overall course. Each unit falls into a band which determines the student contribution amount.
Fees are adjusted on an annual basis and the indicative amount should be used as a guide only. Total cost will vary depending on the units you choose, your study load, the time it takes to complete your course and any approved credit you receive.
Career outcomes
Career outcomes
The Undergraduate Certificate in Early Childhood Studies provides you with an industry-recognised qualification in six months. You'll develop a foundational skillset for entry level roles and have the opportunity to continue your studies through the Bachelor of Education (Early Childhood Education).
Australian Government insights project very strong growth of 21.6% in early childhood teaching jobs over the next 5 years, including roles as a kindergarten teacher, early childhood teacher and early childhood educational leader.
Childcare Assistant
Provide care and structured learning to children, supervise children as they learn and play, provide comfort and reassurance, plan stimulating activities, and keep children clean and safe, usually in a day care centre.
Nanny
Provide care to children on a casual or live-in basis, provide supervision and comfort and keep children safe. Nannies may also undertake some daily tasks around the home relating to the care of the children.
Support Services
Support Services
Be supported through your studies with services tailored to the online learning environment. Federation University Online personalises support for every student, accessible at every stage of your study journey.
Student advisors dedicated to answering your questions about anything from enrolment and course management to essay writing and technical support.
Online Learning Advisors (OLAs) guiding you through your course, bringing industry experience and expertise in online learning to your studies.
Study and assignment resources to help you get the most out of each unit and submit high quality assessments.
An online community made up of a diverse network of students, who you'll study alongside in learning groups and discussion boards.
Flexible study requires flexible support – discover the services available to you so you can go further.
"Federation University has been an incredibly supportive environment to study in – even online. And having spoken to friends attending other universities, I believe Federation is the best choice for early childhood and primary education"
Stephanie
Online student, Education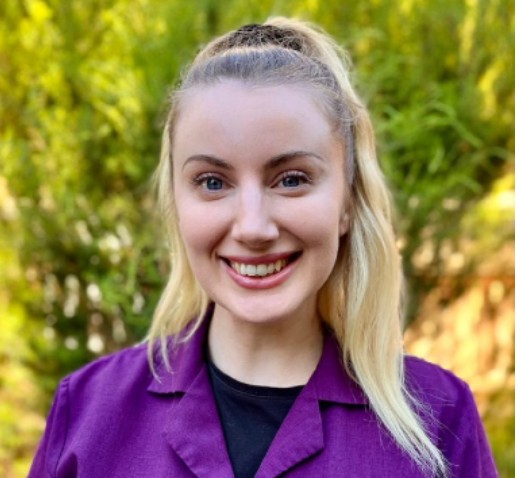 Meet the people behind your course
Dr Sue Emmett
Senior Lecturer in Education
Dr Sue Emmett is currently working as Senior Lecturer in Education at Federation University where she coordinates and teaches in Bachelor of Education in Early Childhood courses. Dr Emmett has been extensively involved in early childhood education and the translation of research into the practical environment for over thirty years. Her research interests include the well-being of children and educators including trauma informed practice in early childhood contexts.
Dr Kathy Swinkels
Lecturer
Dr Kathy Swinkels moved to Federation University in 2017 and holds a Doctor of Philosophy and a Bachelor of Early Childhood Education (Hons). She has a long history of research and teaching in the field specialising with expertise in Mathematics and Pedagogy. She enjoys the challenge of teaching students to understand the connections between theoretical learning and building an understanding of their own pedagogical practices.
Dr Alison Lord
Senior Lecturer
Dr Alison Lord is a senior lecturer in Education and Early Childhood in the School of Education at Federation University. Dr Lord has taught education at a range of universities and has been involved in many community-based pre-school services and education settings. She is also a member of the Victorian Curriculum and Assessment Authority Early Childhood Learning and Development Advisory Board.